snake oil - The ultimate "ikons of rock" performance
0:00/4:08

0:00/4:53

0:00/7:16

0:00/6:02

0:00/4:13

0:00/5:18

0:00/3:56

0:00/4:02
Snake Oil will be performing their acclaimed "Ikons of Rock" show, which has garnered the reputation as the "ultimate classic rock performance!" These musicians have an unbelievable ability to impersonate rock stars musically and visually. The performance includes spectacular costumes with an array of incredible special effects. 
Rock to the hits of our generation as performed by Kiss, Def Leppard, Alice Cooper, Queen, Ozzy Osbourne, Heart, Joan Jett, Led Zeppelin, Alice Cooper, Van Halen, Motley Crue, Pat Benatar, Journey, The Scorpions, U2, Rob Zombie, Cher, Lita Ford, and always adding more....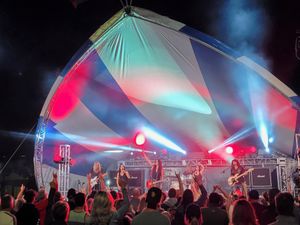 Testimonial
"𝑾𝒆'𝒗𝒆 𝒉𝒂𝒅 𝑺𝒏𝒂𝒌𝒆 𝑶𝒊𝒍 𝒑𝒆𝒓𝒇𝒐𝒓𝒎 𝒂𝒕 𝒕𝒉𝒆 𝑴𝒐𝒓𝒅𝒆𝒏 𝑪𝒐𝒓𝒏 & 𝑨𝒑𝒑𝒍𝒆 𝑭𝒆𝒔𝒕𝒊𝒗𝒂𝒍 𝒕𝒉𝒓𝒆𝒆 𝒕𝒊𝒎𝒆𝒔, 𝒂𝒏𝒅 𝒕𝒉𝒆𝒚 𝒂𝒍𝒘𝒂𝒚𝒔 𝒃𝒓𝒊𝒏𝒈 𝒂𝒏 𝒂𝒎𝒂𝒛𝒊𝒏𝒈 𝒔𝒉𝒐𝒘. 𝑻𝒉𝒆𝒚 𝒂𝒓𝒆 𝒔𝒐 𝒎𝒖𝒄𝒉 𝒇𝒖𝒏 𝒐𝒏 𝒔𝒕𝒂𝒈𝒆 𝒂𝒏𝒅 𝒕𝒉𝒆𝒊𝒓 𝒆𝒏𝒆𝒓𝒈𝒚 𝒊𝒔 𝒖𝒏𝒎𝒂𝒕𝒄𝒉𝒆𝒅! 𝑻𝒉𝒆𝒚 𝒂𝒓𝒆𝒏'𝒕 𝒌𝒊𝒅𝒅𝒊𝒏𝒈 𝒘𝒉𝒆𝒏 𝒕𝒉𝒆𝒚 𝒔𝒂𝒚 𝒕𝒉𝒆𝒚 𝒂𝒓𝒆 𝒊𝒎𝒑𝒆𝒄𝒄𝒂𝒃𝒍𝒆 𝒂𝒕 𝒊𝒎𝒑𝒆𝒓𝒔𝒐𝒏𝒂𝒕𝒊𝒏𝒈 𝒓𝒐𝒄𝒌 𝒍𝒆𝒈𝒆𝒏𝒅𝒔- 𝒕𝒉𝒆𝒊𝒓 𝒗𝒐𝒊𝒄𝒆𝒔, 𝒄𝒍𝒐𝒕𝒉𝒊𝒏𝒈, 𝒂𝒏𝒅 𝒆𝒗𝒆𝒏 𝒎𝒂𝒏𝒏𝒆𝒓𝒊𝒔𝒎𝒔 𝒎𝒂𝒌𝒆 𝒚𝒐𝒖 𝒇𝒐𝒓𝒈𝒆𝒕 𝒕𝒉𝒆 𝒍𝒆𝒈𝒆𝒏𝒅𝒔 𝒕𝒉𝒆𝒎𝒔𝒆𝒍𝒗𝒆𝒔 𝒂𝒓𝒆𝒏'𝒕 𝒐𝒏 𝒔𝒕𝒂𝒈𝒆!"
— 𝐓𝐢𝐦 𝐇𝐨𝐝𝐠𝐞,𝐄𝐱𝐞𝐜𝐮𝐭𝐢𝐯𝐞 𝐃𝐢𝐫𝐞𝐜𝐭𝐨𝐫 𝐌𝐨𝐫𝐝𝐞𝐧 𝐂𝐨𝐫𝐧 & 𝐀𝐩𝐩𝐥𝐞 𝐅𝐞𝐬𝐭𝐢𝐯𝐚𝐥
Connect on Social Media...